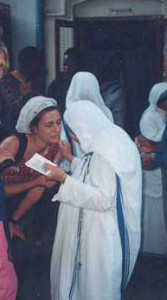 I asked Mother Teresa for an interview, she proposed instead that I first work for a few days in her "House of the Dying" , which I did.
At the end, I never got my interview. But I came home with something more precious.
Although I didn't agree with all of her methods, I must admit, Mother Teresa never tried to convert anyone, not even me.
House of The Dying Mahatma Gandhi
Road Barabazar Market
Kolkata West Bengal 700007, India
+91 33 22592667
approfondimenti nella sezione India