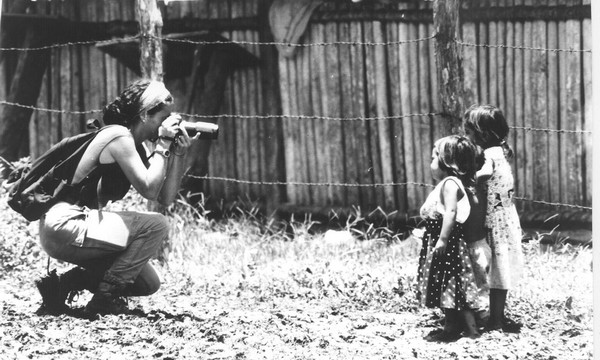 Born in Florence, I'm a journalist since 1991. I write, take pictures and make videos: coming from the Milena Gabanelli's videojournalism school, I have learned lessons I can not forget.
I wrote my first articles for the cultural page of 'La Città' while I was still in University, but then I was hired and spent many years with the Italian media group Poligrafici Editoriale  ('il Resto del Carlino', 'La Nazione', 'Il Giorno'). In 1997 I decided the world was too big and my news desk way too small: so I quit my job, embraced the videocamera and expatriated to Sarajevo, Bosnia, to deal with corporate communication for humanitarian and development organisations.
From 1997 to 2004 I have worked throughout the Balkans and North Africa for several NGOs at first, then for the European Commission and for the International Committee of the Red Cross (ICRC). From 2005 to 2010 I was in Jordan, with the European Commission's Humanitarian Aid Department.  I was engaged in many countries, from Chechnya to Algeria, from Syria to Palestine, from Lebanon to Georgia. I have faced wars, insurrections, civil unrest,  and spent months in refugee camps.
But there comes a time when you get tired of all the sorrow (hopelessly) witnessed and shared throughout anguished communities.  In 2010 I decided it was time to leave Amman and come home. So we returned to Florence, where I'm now working as an EU Consultant. Writing is my life-long passion, and my stories are today published on Sette  (Corriere della Sera) and the Corriere Fiorentino. Cultural Heritage storytelling has become a priority for me:  I believe people are citizens before and more than consumers or clients, their bond with their cultural and historic environment needs to be reinforced and its narration revitalised. Students are the target of my 'Heritage storytelling' courses, where I advocate that knowledge and empathy are not incompatible. I just published my first book in relation to all this…
Training and teaching are indeed something I enjoy: since 2003 I'm a senior lecturer for different Italian universities, from the Scuola Superiore Sant'Anna (@the International Training Programme) to the University of Bologna (@Master in Human Rights, Migrations and Development), dealing with "Communication for development" ; "Communication techniques";  "Media handling " and "Planning for results" for post graduate students, project managers, civil servants, Government Officials. Since 2010 I also train European Civil Protection Experts in "Facing media in emergencies" and "Crisis Communication".
I manage to raise Neri (18 years), Rebecca and Riccardo (9). They give sense to everything else.