Displaced people are coming back to piles of rubbles, fields ruined, industry destroyed. Today many Chechens survive on small scale farming.
GERMENCHUK (Grozny) – Although the guns are silent and the lines of people queuing for food distributions are shorter, for most Chechens, survival is still a daily struggle. Displaced people have come back to find houses reduced to rubble, fields ruined and industry destroyed. Around 220,000 people who sought refuge in Ingushetia are now back in Chechnya. Some had a place to return to. Others were not so lucky. The prospects are particularly bleak for those who ended up in collective centres – which are now due to close because officially 'the war is over'.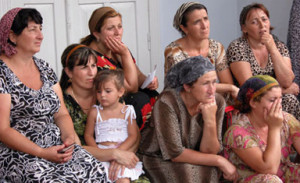 Forty-nine year old Zura Ustarhanova, who has five children, has worked in horticulture for 20 years, cultivating tomatoes and other hothouse crops under glass. "Now I want to work and to train other women," she says. "There is so much poverty around me, so much despair. I want to do what I can to help my people out of the abyss we have fallen into".
We are in Germenchuk, a village 30 km from Grozny. Zura never left her home: not in 1994 when the first war broke out, nor in 1999 when, for the second time, most of her neighbours locked up their houses and left. They all hoped to come back soon but their exile lasted years as the war dragged on.
"Many of those who have returned still have no roof over their heads," explains Zura. "They live in mini-vans and even containers, and they have no jobs. Look at these women," she says, pointing. "They are quite young and are desperate to feed their children."
Today many Chechen households survive on small-scale farming. When nothing else is left, the soil can still provide for the people: at least for those lucky enough to own land. Traditionally, vegetables like beans, peas, cucumbers and tomatoes were cultivated in greenhouses. They were high value crops that were easy to grow and sold well at market. But most of the infrastructure was destroyed in the fighting. "We need help to rebuild the greenhouses and resume the cultivation of vegetables," says Zura. "This will enable to feed our families and sell the surplus for cash."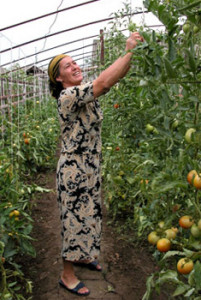 This is precisely the aim of a pilot income-generating project implemented in Chechnya and Ingushetia by the UN's Food and Agricultural Organisation (FAO), with financial support from the Commission's Humanitarian Aid department (ECHO). Approximately 200 families have been identified: the poorest, the jobless, female-headed households and those who might soon be homeless. "The help is only going to the most vulnerable," says Zura, who has been selected as a trainer for the programme thanks to her lifelong experience. "But sometimes it is very hard to remove somebody from the list. How can you judge? We are all so needy".
A training course in construction gives the women the skills to build their greenhouses. They are then given seeds and fertilisers and introduced to agricultural and marketing techniques. Eventually, they will be able to grow and harvest crops during the cold season to benefit from peak market prices.
"Cultivating tomatoes kept us alive during the war," recalls Zura. Now things are slowly getting better. Yesterday I went to the market and sold a box and a half of tomatoes. Of course, it isn't enough to restore the house, which was badly damaged during the war. But it keeps the seven of us going. We can eat at our table and sleep in our beds. Sometimes, I can even buy meat for my children. Compared to others, we feel very rich".
Daniela Cavini
ECHO Regional Information Officer