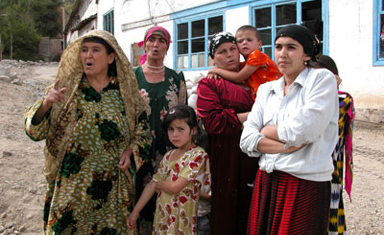 KOJA OBIGARM – "We could save ourselves because it was daytime and we saw the mud coming down the mountain—we jumped out of the window and escaped from the other side of the building".
Aziza Niosova, 55, is from Khoja Obigarm, a village located in a narrow valley, surrounded by high mountains, in the Varzov district. It's a beautiful but dangerous area: almost 80% of Tajikistan's natural disasters take place in this valley, where about 400 danger sites have been identified.
In Khoja Obigarm a gabion-wall constructed under a previous project financed by the European Commission Humanitarian Aid department (ECHO), didn't resist the 2004 floods and was destroyed. It did, however, save many households.
This is how Aziza recalls the event. "In 2004 the summer was very hot, but then it started raining and it went on for days: on July 23, a huge mudslide came down the mountains, bringing stones and rocks with it, demolishing houses on its way, and even carrying away two tractors… Luckily, we had just completed the construction of a gabion, which was destroyed by the devastating fury of the flood, but it did help to spare many buildings. If it hadn't been there, I don't know how many more houses would have been swept off". The flow of mud was up to 4 meters high and the stones brought down with it reached the first floor of the old Sanatorium of Khoja Obigarm, a building some families are squatting in today. "We have seen floods before, but never so bad: it was incredible. And it is getting worse, from year to year"."
Since 1985, more than 50,000 minor and major landslides have been localised across the territory of Tajikistan, which is a prone- to-disasters area. And since the country's predominant means of income are linked to cultivation of the land and animal husbandry, the recurrence of natural disasters is the most significant obstacle in managing day-to-day activities.
Nowadays, in Khoja Obigarm, the river banks are being strengthened again through the construction of a higher gabion, with the strong participation – and financial contribution – of the community. People are encouraged to assume responsibility in solving their problems. The project is financed by ECHO and implemented by the NGO CARE. "We have collected 2.360 somoni (around € 574) from the village – continues Aziza – and all the men have worked hard to build the new barrier. If we don't do this now, the next flood will sweep us away. This summer was very dry, and we know from experience that if you have a dry summer, you can expect flooding in the winter…"
Due to a high level of poverty in the country, capacities to withstand and recover from disasters, and to institute measures to prevent and reduce the impact of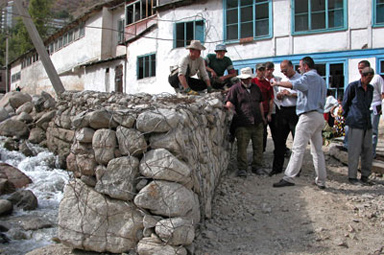 future floods, landslides or earthquakes, are extremely low. The poor are usually affected the most. Thanks to projects supported by ECHO throughout the last 15 years, the coping capacities of Tajik people in confronting natural disasters have been relatively increased through small-scale mitigation projects, awareness and preparedness activities in schools and communities, contingency planning. Still, problems are far from solved. Public funds devoted to disaster risk management remain weak.
But people keep holding on, even where the land is not so good. Sometimes, there is no other choice. "Why don't I move?", ends Aziza, "Those who could afford to move, have already done so. We are bound to stay, there is no other option for us and we do not have the means to go anywhere else. The land is not good here, it's full of rocks and it lacks water. I have washed clothes all my life, at first in the old Sanatorium, then in the new one. My pension as a laundry-lady is 25 somoni a month (approx. €6). I have four boys who also work in the sanatorium, for a salary of 60 somoni a month (approx. €13,5). We are three families sharing three rooms: do you really think we have another choice?
Daniela Cavini
Regional Information Officer