How the blockade of Gaza is redesigning humanitarian operations.
GAZA CITY – You need to be adaptable to stay alive in Gaza. Gazans learnt this lesson a long time ago but nowadays, conditions are harsher than ever and people need to think even more creatively – despite the support they are receiving from the outside world to keep going.
Problems for humanitarian access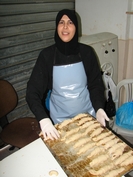 No imports, no exports, no jobs. The most popular means of transport is (skinny) donkeys. Since the borders of the Gaza strip have been sealed, people are not allowed to cross to Egypt or Israel, and only basic commodities are allowed in by the Israeli authorities: flour, sugar, oil, canned meat, medicines. This is barely enough to keep the population on their feet. Everything else is either banned or prohibitively expensive, and even paper and cleansing products are hard to find. Not only has the private sector come to a halt, but work opportunities for the most vulnerable, unskilled labourers have also vanished. The poor have become even poorer and entire families have lost their breadwinners due to the border closure.
International aid is stepping up efforts, but here too, the price to pay to an isolated economy is a heavy one. Take the cash-for-work project financed by the European Commission Humanitarian Aid department and implemented by Mercy Corps: until six months ago, poor, unemployed labourers were employed in the small scale jobs such as the rehabilitation of schools, parks, and streets and were able to earn badly needed income. But the reconstruction of a wall cannot be achieved without cement. Confronted with the reality of being forced to suspend their humanitarian operations, by a stroke of imagination, Mercy Corps have adjusted to the context and come up with solutions. If people are unable to build or rehabilitate, they will teach, and sew, and bake. They will make use of whatever resources are available.
In the set-up of the new emergency job creation programme, different categories of Palestinians – each supporting large, needy families – are participating in different activities. 220 women have been selected to sew clothes for boys and girls of poor backgrounds in Deir Al Balah and Khan Younis, in the Gaza strip, although the shortage of clothing has already put this new activity at risk.
Problems for the young
What is not being depleted is intellectual power. Since the quality of education is generally deteriorating with double shifts applied in 85% of schools, about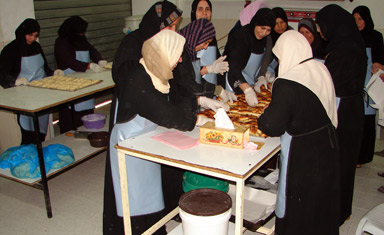 100 recent graduates have been contracted to teach supplementary classes of Arabic, Maths and English to around 500 slow learning children.
It is the young generation which is most affected by the on-going crisis in the Palestinian strip. Teachers report that many children have developed aggressive behavior and that their concentration and motivation levels in the classrooms have badly deteriorated. The daily reality is very stressful throughout the Strip: children spend less time in school and more and more time in the streets. Here they are the silent witnesses of unpredictable violence which will probably affect their lives forever. They see their fathers at home doing nothing. They are hungry.
So they bake
In order to improve children's nutritional status, a third component of Mercy Corp's project is reaching out to about 4,000 kids in 43 schools throughout the Strip. Each child receives a pastry fortified with vitamins and minerals every day. About 80 women are involved in the baking process. "I never thought that one day I would become the breadwinner for my family: but here I am, taking pastries out of the oven!" Amal Al Masri is 40 years old with seven children to feed. She lives under the "subsistence level" and has to support her family with approximately €1 a day. Eight Gazans out of ten are in the same situation.
Amal is not a refugee, she was born in Gaza, where she has always lived. When work was available, life was not unbearable. "In the past we have seen difficult times, especially after the second Intifada. Palestinian workers were not allowed to cross into Israel to look for work and that's when my husband lost his job. Since then" continues Amal "my family and neighbours have helped us a lot, and we could make it through somehow. But today, nobody can help anyone anymore. Our solidarity network has gone. In Gaza we cannot trade, we cannot farm, we cannot fish, and we cannot build. We spend many hours in the dark as there are long electricity cuts. Water does run, but we never know if and when. What do you expect us to do?"
Humanitarian projects are not the solution, which seems far beyond the reach of the desolate shores of Deirr al Balah camp in the Gaza Strip. But struggling families are to some extent relieved by even sporadic injections of cash. Amal knows what she has to do with the money she will earn as a temporary baker. "I'll pay off part of my debt with the grocery store; not all of it, only part. Then I'll buy shoes for my kids. And I'll finally buy pain killers for my husband's back".
Daniela Cavini
Regional Information Officer
European Commission Humanitarian Aid
Amman