Families are hosted in schools, parks, even theaters: in one week the displaced population in Beirut has tripled.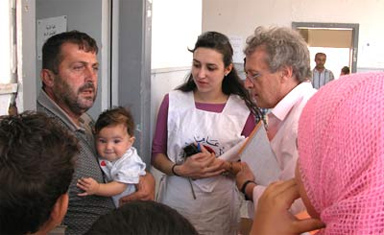 Beirut. A phone call comes at night time: new families have just arrived at the Agriculture Faculty of the Lebanese University. They have nothing and need help. So the next morning, the aid delivery initially foreseen for a school housing displaced people is shifted to the university.
"We operate according to the needs," explains Ibrhaim Abou Khalil, project coordinator for the Danish Refugee Council (DRC). "The school we were supposed to visit today was served only few days ago. It was important to react quickly. We can't let people down, so here we are." It takes just a few minutes to unload the DRC truck. The delivery includes water, cans of tuna and corned beef, cheese, beans, soap, shampoo, washing powder, baby nappies, candles, mattresses and plastic buckets.
In one week, the displaced population in Beirut has tripled. Public buildings are overflowing, and private accommodation is also running short. " People keep on coming," says Ibrhaim. "T he city's hosting capacity will soon be exhausted". There is now a proposal to use the city stadium into a centre for displaced people.
Through its partnership with the local association, Amel, DRC was able quickly to identify and help 800 homeless families accommodated in 15 schools in West Beirut and around the Sabra refugee camp.
Inside the Faculty building, the displaced families have organised themselves. Working alongside Amel and DRC staff, they begin distributing the coveted assistance. Up to this morning, even before the new arrivals, there were only about 40 mattresses to be shared by 240 people – most of whom are children. They left their homes with nothing but the clothes they were wearing. They always come from the same places: Nabathie, Tyre, Beint Jbel in southern Lebanon and the Shiite district of Al Dahie in Beirut. Most have no idea of what has happened to their houses, or to the rest of their families. For many, the trip was a nightmare – days spent on the road or in the open.
A team from the Commission's Humanitarian Aid department (ECHO) is accompanying the DRC today as it distributes vital relief items. ECHO opened an office in Beirut immediately after the fighting began and €20 million has already been committed to finance emergency aid actions. Jean-Claude Heyraud, who heads the unit responsible for ECHO's operations in Lebanon, is here to assess the situation for himself. In the corridors of the Faculty he talks to the people and listens to their stories.
One of the people he meets is 17-year old Hoda – who addresses him in fluent English. She comes from Beint Jbel near the Israeli border which has seen fierce fighting. She explains how her family has been split up. She is sharing a room in the Faculty with two brothers and a sister. Her mother and another sister fled to Sidon. And they have no news of their father who stayed behind. " I would like to help my country but I don't know what to do," says Hoda. "We are trying to make something out of our lives, but then war comes and everything we are working for is ruined."
Yysef Ali Jawad, who comes from the village of Kakahie, near Nabathie, is also worried about those who were left behind. "A lot of people couldn't get away because they had no vehicle. As we were leaving, I saw people crying. I'm very lucky. I got my wife and five children into our car and we took to the road. It was horrible leaving people behind; saying goodbye fearing that we might not see each other again. I did it for my children, but if I could, I would go back immediately."
Daniela Cavini
ECHO Regional Information Officer – Amman