Humanitarian aid workers struggling to cope with the continuous influx of displaced people.
TBILISI – It is a ceaseless flow. Some people have travelled for days. They arrive by car by truck, by bus and (before the bridge was bombed) by train. Some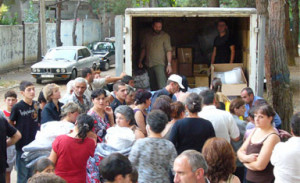 have walked for long hours, crossing devastated towns and burnt villages to flee the violence and their horrific stories travel with them. There are men, women and children. Grandparents are often missing, because this run for life through bushes and checkpoints was too difficult for them. They decided to remain home and face their fates. They arrive with nothing; just as they had escaped – with their slippers on.
The number of hosting centres in Tbilisi keeps swelling: from 100 to over 500 in just three days. Schools, kindergardens, unused military bases and old hospitals, municipal buildings of every sort – these are serving as temporary shelters. Tented cities are now springing up, since there are no more public places left to open their doors. Conditions inside the new dwellings are often appalling.
''We are from a village near Gory", explains Zira Joldordi, 42. "When the attack began, I took my three children and ran. But my mother-in-law didn't follow, she's too old. My husband decided to stay behind as he didn't want to leave her alone''. Zira and her children have just arrived at the 'milk territory', a tented city hurriedly set up on the outskirts of town, near the airport. It was once was a milk factory.
On arrival in Tbilisi, the family stayed with relatives for a few days. ''But it was too crowded, we couldn't cope. Somebody told us there was still space here, so we decided to look for help and we came''. Many of the 40.000 people of Gory, whose fate was unknown until few days ago, did the same. They left or hid, or stayed with other families. But as the days went by – and the situation did not improve enough for an imminent return – they decided to come out of hiding and register for assistance. The number of registered displaced has swollen from 7.000 to 72.000 in just a few days. ''We came with nothing, not even a bag" continues Zira. "My children haven't eaten for a while''. The good news is that she was finally able to reach to the family in Gory by phone. 'They are still alive, hiding in the basement. They have running water, and they are eating whatever we had stored. I do not know what they'll do once the food runs out. The Russian tanks are in the villages, everywhere".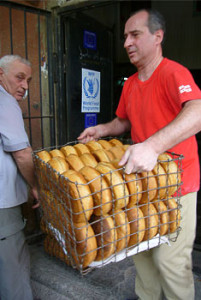 Help is at hand
The humanitarian machine is running full speed. The European Commission's Humanitarian Aid department (ECHO) has released a fast-track package of aid worth €1 million to help cover the basic needs of the population. Mattresses, blankets, hygiene and kitchen items are being delivered by two non-governmental organisations, the Danish Refugee Council and Premiere Urgence. The World Food Programme is distributing high energy biscuits, beans and bread. 'Under normal circumstances" explains Robin Lodge of the WFP "we would deliver flour and pasta. But people have no cooking facilities, so we take the flour to the bakeries, they make the bread and we deliver it to distribution points''.
So far, seventy thousand people have been identified for assistance. They are scattered throughout 500 collective centres. It is a logistical challenge for local authorities and aid agencies, who are struggling to meet the overwhelming needs. Donations are pouring in from several European countries. A United Nations flash appeal is expected to come out in the next few days, highlighting the need for life-saving activities over the next 4 months.
While a cease-fire agreement appears to have stopped the fighting, concern is growing for the thousands of displaced persons in Western Georgia. The main road from Tbilisi to Zugdidi is still not secured for humanitarian access, and many civilians remain in Gory and South Ossetia, where humanitarian actors have not been allowed passage.
''My father is still in Karaleti, a village near Gory" explains Leila Thetchelaschvili, a 33 year old English teacher who fled with her only daughter Marja. "It was a terrible situation there; houses have been burnt, people were killed. I started to run with my daughter. I was lucky. Some soldiers gave us a lift in their car, otherwise we wouldn't have made it here to Tbilisi.''
Leila is queuing up at the former Russian military base in Tbilisi – a dreary concrete building left over from the Soviet era with no electricity, no sewage system, and no running water. Over 1.000 people are crammed in here. This is where Leila wants to live, where she hope to be reunited with her mother and other three members of her family. Any semblance of normality is now shattered. ''In our village we lived from the fruit of our labour. It was such a peaceful, quiet existence. It all seems so far away now''.
Daniela Cavini
Regional Information Officer
Regional Support Office, Amman, Jordan