The pilgrimage of 10 young photographers through the daily reality of the war aftermath.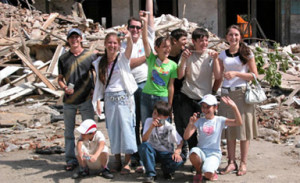 GROZNY – "Have they rebuilt the Two Towers yet?". Magomed was nine, living as a refugee in Ingushetia when the Twin Towers came down and the world changed forever. That was in 2001.Since then, he went back to Chechnya with his family, he lost a leg in a rocket attack, and he decided to become a photographer. Or a policeman, he can't make his mind up yet. "My dream is to make it to New York to see the Two Towers; but I guess I'll have to wait till they rebuild them…Even here, in Grozny, all the houses have been torn apart …. What's war like? I don't know… I lost a leg. That's all I can say about it: is that enough?".
We are on the premises of a school, Gymnasium n. 7, Oktybrski district, in Grozny, with 10 young photographers – aged between 11 and 18. They have been selected and trained for a very special mission: to capture in their pictures the daily reality of life in a place devastated by conflict. A mini-van will take them across Grozny and its surroundings.
These children have all been refugees. Now they are back in their own country, their own town. Today, for a day, they will see through their lenses the sorrow and the hope of Chechnya in all its contradictions.
Take the newly reconstructed "Kadirova square", where a marble water fountain sparkles in a city where hospitals and schools still lack running water. Take the corridors of collective centres where thousands of refugees are waiting on old mattress for a future which never shows up. They will take hundreds, thousands of shots for an exhibition in Grozny on November and in Moscow on December – "Chechnya through the eyes of children".
Three partners have been working on this project: the funds are from the European Commission Humanitarian department (ECHO), the experience comes from UNICEF, and the dedication is from 'Let's Save the Generation', a Chechen non-governmental organisation (NGO) active in the psycho-physical rehabilitation of war young victims. The 10 photographers have been mostly selected by the NGO personnel.
Among them is Yaser, 11: his father died in 2000 in a landmine explosion. His elder brother was killed in 2001, his mother in 2003 at the market in Grozny. He lives in an orphanage. Also here is Salman, 18: his mother died during a bombing, and he himself was invalided by shrapnel wounds. Ruslan, 16, injured by a landmine; Khamzat, 11, fatherless…
According to official statistics, about 24.000 children have lost a parent to the Chechnya war, and 19.000 lost both. About 20.000 youngsters have been injured by the deadly seeds of conflict – mines, unexploded ordnances, shrapnel…
The story of Magomed Bamatkiriev, 14, is typical. He describes the moment his life changed forever. He was asleep in his bed…. "It was three years ago, I was 11. It was late at night when something hit the house and the roof fell in on me. I didn't realise I was hit, I felt nothing, I can only remember a lot of smoke in the room… Then I saw the blood on my bed, but I didn't think it was anything to do with me. I saw my father leaning on me, then I fainted. When I opened my eyes, I was in the arms of a doctor on the way to the hospital. Next day I realised I had lost a leg." Three years later, Magomed is back on two feet. Today – thanks to his prosthesis – he can even play football. "I'm the goal keeper, of course… they say I'm good. I came to this centre twice a week to learn how to walk again…"
We are at the headquarters of 'Let's Save the Generation' in Grozny, where dozens of injured children and adolescents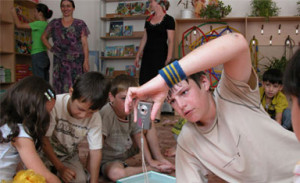 learn how to adapt. Some of the young photographers rediscovered the will to live here. Arkhady is the professional photographer who trained the group. "It's easy to take pictures in Rome, it doesn't take much effort, but what about a place like Grozny?
Now we are at the 'Temporary Accommodation Center' of Leninsky District. Piles of mattresses, piles of dishes in corridors, dim lights, the odour of clogged drains. Our young photographers find stories of diseases, of solitude, of mourning. Residents who had a way out took it and left, to join relatives, friends, or to reclaim a piece of land. The others have been left behind.
"The first time I went to Ingushetia I was not yet four," recalls Magomet, sitting on the bed of a young girl – It's my first war memory: I'm lying on the floor, I hear the airplanes coming. It's a sound I will never forget. It was 1994, we decided to leave. I heard the same sound in 1999, when war broke out again, and we left again, this time to Nazran, in Ingushetia. My father was a driver, he had his own van, so we were able to make a living and get by. In July 2002 they told us the war was over, so we came back. But it wasn't true: one month later, I was hit by a rocket…"
Today, tomatoes are back on sale in the markets, and new buildings are rising up across town. You can even buy ice-cream on Kadirova square.
Out of the thousands of shots our photographers took, they picked out one very special shot for the invitation to their exhibition. It's of a little girl with a skipping rope. She's skipping, jumping for joy with all her might. She's reaching for the sky. She's looking to the future. Magomet took the picture.
Daniela Cavini
ECHO Regional Information Officer
http://ec.europa.eu/echo/aid/stories/caucasus04_en.htm